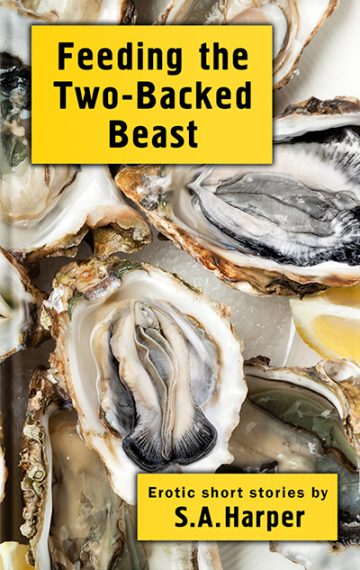 Publisher:

Word Oyster Press

Available in:

Paperback, Kindle

Published:

January 1, 2017
Paperback (Amazon)
Ebook (Kindle via Amazon)
A young woman finds Bourbon Street on Mardi Gras more "hands-on" than she had imagined:
Maia wanted to give herself permission to just let go, to not feel violated. If the hand was Jason's — or Terri's, for that matter — would that be so awful? It would be something that happened between them, perhaps never even discussed. And if this hand belongs to a stranger in the crowd? Creepy, but… Mardi Gras is a moment. Masks or no masks, the revels of Carnival are primal. It isn't in us to resist today when God isn't expecting us until tomorrow.
A New England apple orchard at dusk becomes a setting for sexual power play. An artist sketches his naked girlfriend and discovers new inspiration:
At first, I tried to draw everything from your breasts to your knees, but my eyes kept coming back to your pussy. I saw your fingers spreading your labia apart, exposing folds and wet-slick colors. So I quickly grabbed the whole box of pastels and tried to get down on paper all the colors I was seeing. Salmon, coral, light pink, light violet red. The middle of the paper was covered with multiple images of your vulva: the roundness of the outside, the petal-like inside surfaces that your fingers were exposing. Not one drawing was the same as the one next to it. You were changing that rapidly.
A man and a woman chance upon a couple making love in the park and their voyeurism gets the better of them. A naked woman waits for her lover at their front door, kneeling beside lengths of red rope:
God, it occurs to me that, if you would just thrust that dildo in and out of me a couple of times, I could have a nice, quick orgasm and then we could play whatever it is you have in mind. That's what we should do. I swear, you can trust me. But you aren't sliding it in and out. It simply presses on until I feel the fake balls nestled against my skin. I try to tip my hips to get some action, but you slap my ass hard with your hand. Fine. We'll do it your way.
"Here's the game we're going to play." I can feel you slightly rotating the dildo inside me as you talk. Because of the dildo's curve, I can feel it tracing an arc inside my vagina. I want to move on it. I want you to move it in me. I want… "You are not allowed to come. And no matter what I do with you or to you, you must not let this dildo slip out of you. Do you understand?"
"Yes. I understand." I close my eyes and scrunch up my face. Dammit.
This collection contains 10 erotic short stories by author S.A. Harper.