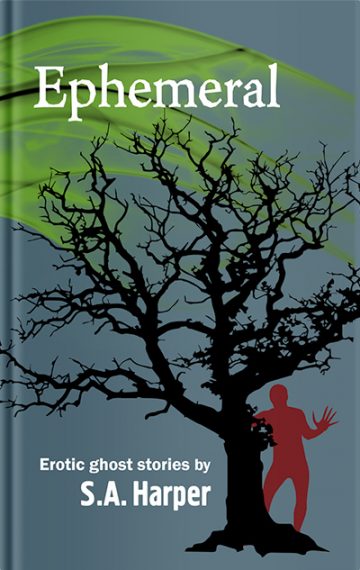 Publisher:

Word Oyster Press

Available in:

Paperback, Kindle

Published:

May 21, 2019
Paperback (Amazon)
Ebook (Kindle via Amazon)
Stranded as they are in this world, ghosts learn to amuse themselves. They watch us. They envy us. They find ways to mess with our lives and then vanish with little remorse, leaving us holding a dead pig in a poke and trying to avoid wet spots of ectoplasm on our sheets. They do these things because they have nothing better to do. They do these things because they can.
And when ghosts get together, they tell stories about what they have done to us in the name of revenge and entertainment…
There's the story of the charlatan who finds summoning dead wives for live husbands can be trickier than she thought:
My name is Victoria Collison. I suppose the correct way of saying that these days is that my body's name when I was alive was Victoria Collison. But, at various times in my life, I was also known as Gypsy Zuzana, The Virginia Seer, and Madame Maria Duval. To the living, I was that person who was supposed to be in touch with the likes of ghosts like you. In my fancier, later disguises, I was what people call a medium. And, as all of you would know, that means I never encountered a real ghost in my life. That is, not until I tried conning the husband of the late Esther Schneider of Queens, New York.
There's the formless ghost who frequents the Boston subway, getting to know the riders in an intimate way:
I pass amongst them, basking in their memories of fucking they've done or in their anticipation of fucking they will do. I've been this close to a hundred thousand pussies and cocks. I'm fascinated by the pony boys and the enema queens, the shaved and unshaved, the tattooed, the pierced, and the frequently paddled. I've wrapped myself around their hands as they touch the bruises and the hickeys, the chastity belts and remote-controlled vibes hidden beneath their clothes. All these things that make them feel something. They keep me coming back to the train each day. And each time the train slows down to make that hard turn coming into Harvard Station from Central Square, I find the warmest, horniest person in the car and I pretend to press myself between their legs. And, without a voice of my own, I let the predictable harsh screeching of the steel wheels on the rails speak for me. I scream with the divine torture of it all. It's almost like coming, each and every time.
And then there's Lizzie, the ghost of a 1920s flapper, just out to have a threesome on her one night back this year:
I spot them from across the dining room about the same time they spot me. The man waves me over. I can immediately tell that he thinks I'm younger than his wife led him to believe. I walk across the room, thinking to myself, "Sugar, I'm older than your great-grandmother. You have no idea who or what I am." I've arrived at the restaurant in the kind of exuberant rush that only comes from being in one's twenties. I'll always be in my twenties. I died in my twenties. I come back for one day each year and — every time I do — I'm in my twenties. There are worse ages to be stuck in for eternity.
This collection contains 7 erotic ghost short stories by author S.A. Harper.