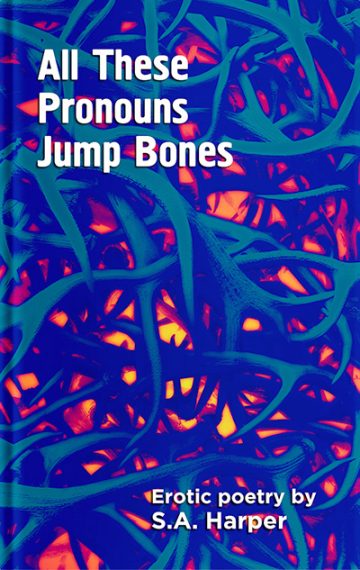 Publisher:

Word Oyster Press

Available in:

Paperback, Kindle

Published:

June 12, 2016
Paperback (Amazon)
Ebook (Kindle via Amazon)
S.A. Harper has given poetry readings but has never competed in a slam poetry competition. But make no mistake: the erotic poems in this collection have the blunt, staccato truth of slam. Without a doubt, Harper's poems about sex are meant to be read aloud:
… I want my ass grabbed 'til I gape.
I want my legs splayed obtuse.
I want to be pushed against a window
and displayed to the street below —
my face on fogged glass, my flattened tits,
my open hands pushing back
against that brittle clarity.
I want to embody my exhibition
and wave like the Queen 'til I fall…

These are poems that have the rhythms of everyone's daily desires. They have the beats of sexting and Tinder hookups, of Tumblr in its porn heyday, and of sex sounds coming through hotel room walls. These are poems of young horny love, of self-defeating passion, of hard-ons and well-earned queefs, of threesomes and lonely solo nights.
Harper's poems can also contain quiet beauty and tenderness. And even a haiku about sex often has humor:
So this is beach sex!
My shoes are not the worst place
where I find sand.
This 92-page collection features over 30 longer poems (1 to 3 pages each) and over 60 erotic haiku.